Asbestos Floor Tile Removal is a service we to private and commercial clients across the UK.
Popular in offices and homes from the 1940s to the 1980s, asbestos floor tiles can still be found even if covered by an alternative type of floorings such as carpet or wooden floors.
The most common type is thermoplastic, which may have been applied using an asbestos-containing bitumen adhesive and paper asbestos backing.
---
Why Were Asbestos Floor Tiles Used?
Cheap, easy to manufacture, easy to fit and hard-wearing, asbestos these tiles were a popular alternative to expensive carpets or wood flooring, especially in council houses and office blocks.
However, many people fail to realise that some of these floor tiles contain hazardous asbestos and removal should, therefore, be carried out under controlled and safe conditions if renovation or demolition is taking place. Although generally not a licensed activity, many homeowners and trades aren't confident in tackling asbestos floor tile removal themselves and therefore often contact us to carry out the works on their behalf as part of their asbestos eradication plan.
Many parts of flooring including sheet vinyl, vinyl or asphalt floor tiles and any associated paper-like backing or mastic/bitumen which may contain asbestos. The most common type of asbestos found in these types of materials is Chrysotile.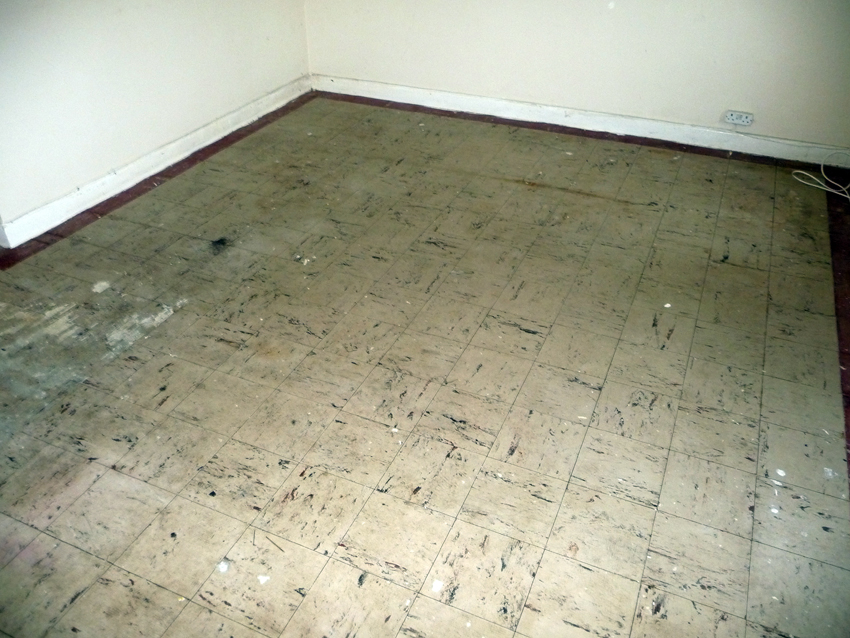 How To Remove Asbestos Floor Tiles Safely

Once the area has been sheeted using professional grade polythene, removing asbestos floor tiles safely requires the use of the correct overalls (including a hood), proper safety boots and a FF3 type mask. Care should be taken to reduce the change of breaking the tiles using an adequate scraper. Care should also be taken to spray water around the area to reduce the chance of any asbestos fibres being released into the atmosphere. A specialist Type H vacuum cleaner is then used to remove any debris from large areas when extirpating asbestos-containing materials.
One option adopted is to cover the tiles with carpet or an alternative floor covering, and whilst this should prevent any asbestos fibres being produced during wear it does not get rid of the underlying problem. However, it will leave the floor tiles intact and should prevent any asbestos fibres becoming friable. It should be noted that asbestos products can degrade over time and it is advisable to obtain a quotation from a specialist asbestos floor tile removal company. Leaving the tiles in position may also be a problem for anyone who wants to install new flooring, such as carpet grippers, or who may want to lay stone tiles and it may be necessary to remove the old tiles and it may be that asbestos tile removal may be required. The moment that you attempt to remove asbestos-containing flooring you risk breaking the material and in turn making fibres friable, which is hazardous to human health if inhaled.
Once the floor tiles have been removed, you may wish to have optional air testing carried out to ensure that the area is free of asbestos.
Removal of adhesives and glues
You should never sand the adhesives from the floor unless following HSE guidelines as this can release asbestos fibres. In addition to the removal of any asbestos-containing flooring, we can remove any adhesives or glues left using specialist tools such as heavy-duty industrial scarification machines connected to H-type vacuum cleaners and dust suppression techniques. These contain specialist HEPA filters to ensure that there is no dust released into the environment and that all asbestos is extracted. It also allows the asbestos to be disposed of correctly.
Never dispose of asbestos-containing floor tiles in domestic refuse as this puts you and others at risk. The abatement of asbestos is a regulated activity and you should seek the advice of a professional if you are in doubt.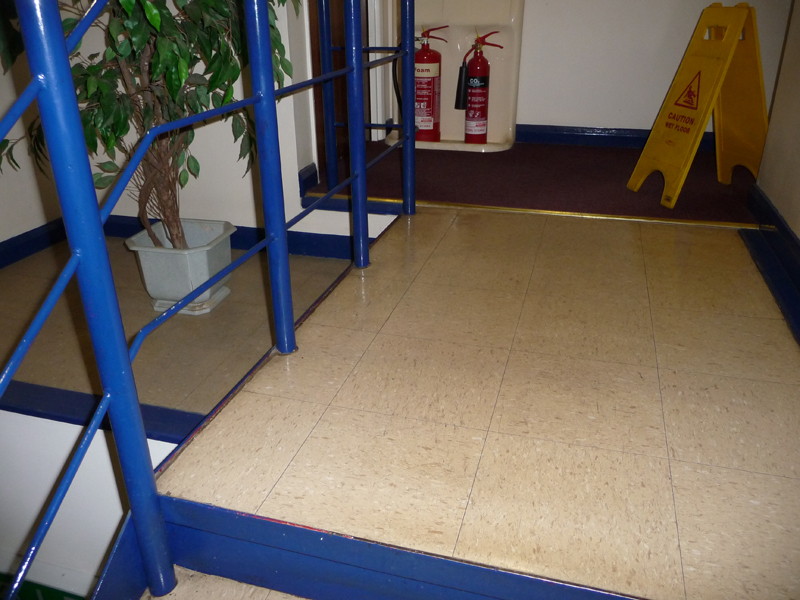 How Can I Tell if Tiles or the Adhesive Contains Asbestos?
The only way to be completely certain if a floor tile or adhesive contains asbestos fibres is to have asbestos sampling carried out on the material. This process identifies the type of asbestos present and a report is produced to confirm this. Both the tile and the adhesive or bitumen will be tested for the presence of asbestos fibres and a report is provided by a UKAS accredited laboratory.
Do Marley tiles contain asbestos?
In some cases, yes. Marley tiles were known to have been manufactured using chrysotile (white) asbestos which was bonded into the product.
What is the cost of Asbestos Tile Removal

?

The cost of asbestos floor tile removal varies depending on the size of the area to be removed, the type of asbestos present and the location. We can provide you with a bespoke quotation to remove floor tiles in any type of private or commercial building. This includes providing you with a waste certificate to show where the asbestos waste is being taken to before being destroyed.