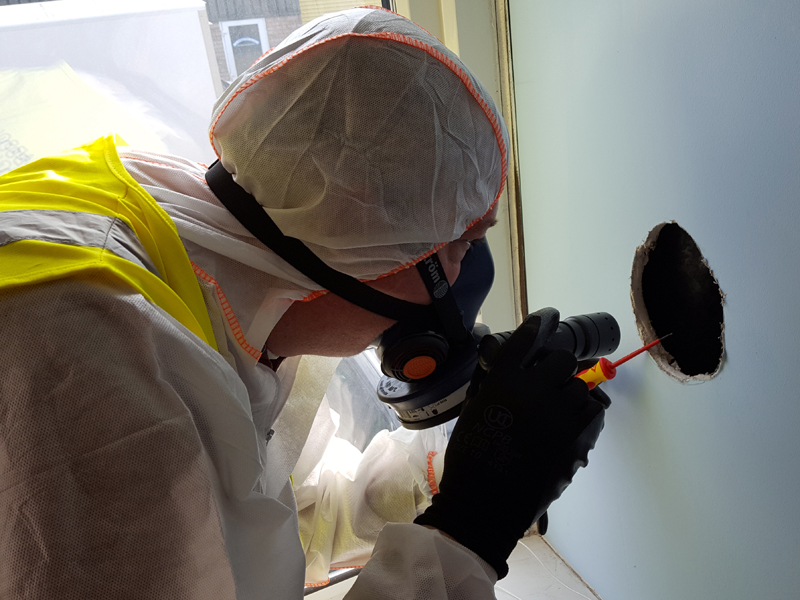 Refurbishment and Demolition Surveys (R&D Surveys) may be a requirement where any demolition or refurbishment work is to be carried out on a building (including soft-strip). It is required for any building built prior to 2000, unless there is unequivocal evidence that no asbestos containing materials were used in the construction i.e. by using plans, inventories and maintenance logs. If there is any doubt as to the presence of asbestos containing materials, a refurbishment and demolition survey should ideally be carried before works commence.
In addition, a refurbishment and demolition survey may be required by contractors who are carrying out any invasive maintenance or repair work such as rewiring, plumbing or plant dismantling.
What the Health and Safety Executive say:
"Any buildings built or refurbished before the year 2000 may contain asbestos. As long as the asbestos-containing material (ACM) is in good condition, and is not being or going to be disturbed or damaged, there is negligible risk. But if it is disturbed or damaged, it can become a danger to health, because people may breathe in any asbestos fibres released into the air."
What is the aim of a Refurbishment and Demolition survey?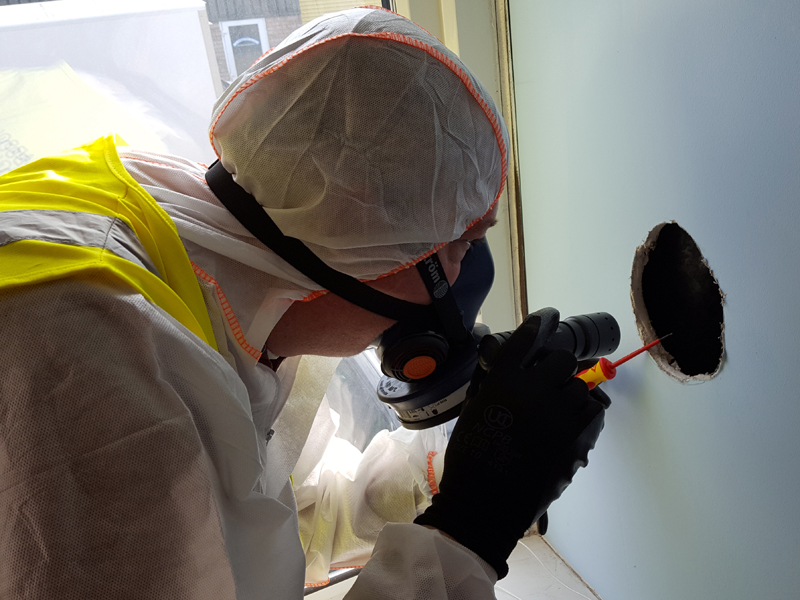 A refurbishment and demolition survey is intended to locate any asbestos containing materials within a building (or the area which is being worked on) as far as reasonably practicable, as well as identifying the type of asbestos present through asbestos testing.
It is a requirement of The Control of Asbestos Regulations 2012 (CAR 2012) that an employer must not undertake any work with asbestos without having prepared a suitable written plan of work detailing how that work is to be carried out, so that any ACMs can be removed prior to refurbishment or demolition commencing.
Due to the invasive nature of Refurbishment and Demolition surveys, damage may be caused to areas where samples need to be taken or to gain access to the areas in question. This may also include taking core samples from walls, etc. It is therefore important to bear this in mind when appointing a company to carry out an R&D Survey.
It is important that the customer sets out the scope of the survey in advance to ensure that the survey covers as much details as possible, and at the same time important to discuss the requirement of the customer to ensure that the survey covers the needs of the project. It may also be necessary for the area to be clear of people and, in come cases, emptied of any furniture; this will be discussed in advance.
What is checked in the Refurbishment and Demolition survey?
To correctly conduct the Refurbishment and Demolition survey, a surveyor will need access to all areas of the building which is to be redeveloped or razed. This may mean lifting floorboards and floor tiles, accessing ceiling and ceiling voids, gaining access to partition walls and also access to attic areas.
What is including in the price of an R&D Survey?
The price of an R&D Survey includes travel to the property, a number of asbestos samples (the number of which varies depending on the size of the property) and the cost of producing the report.
The report will include a plan of the property and identify where each asbestos sample was taken from. If asbestos was detected in the sample, this will be noted on the report.
All asbestos samples taken to complete the R&D survey are tested by an independent UKAS accredited laboratory to ensure that there is no conflict of interest.